Project Consulting
High-Accuracy 3D Scanning Generates Detailed, Comprehensive Project Deliverables
Aug 02, 2022
 • 
7 Minute Read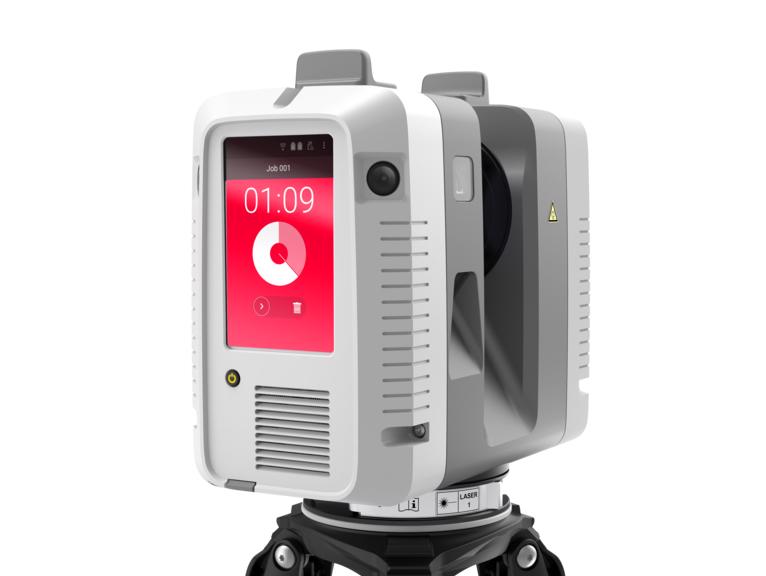 By Jeremiah Carter, Project Manager
If a picture is worth a thousand words, what is the value of an image made from millions of data points converged into a clear and precise 3D digital representation?
The value is immeasurable … and fortunately for our clients, acquiring that level of detailed imagery is possible through new high-accuracy 3D scanning technology available through Corporate Project Services.
CPS recently added 3D laser scanning to our arsenal of solutions for driving innovation in building design and we're ecstatic to bring this enhanced level of service to our clients.
Our state-of-the-art 3D scanner is a real asset with benefits extending to clients looking to expand or make changes to existing facilities. Using leading edge technology from Leica Geosystems, we can produce facility drawings that are dimensionally accurate, measurable, and sharable. The end result is looking at your facility through the lens of powerful 3D imagery that tells a more complete story of your site than ever before.
There's no room for ambiguity when it comes to manufacturing design. Every detail must be accounted for, and very precisely—because inaccurate or incomplete site plans lead to production delays and other costly impediments. But, with the 2-4 mm accuracy achieved through our 3D scanning, ambiguity is no concern.
3D scanning accurately and efficiently captures data in a wide variety of settings, regardless of size and surface features. It's like the physical and digital information converge to create a compilation of virtual reality imagery so you can see the most complete and most accurate picture you've ever seen of your facility. We can capture clear and precise digital records of existing structural and topographical conditions, all without physically touching any equipment. The result is a point cloud with millions of tiny data points, each with its own geo-referenced location that allows for exact measurements. With this scanner we can show exactly how new equipment will fit into an existing facility and how much space is required. We can more easily discover the possibilities of any site and better manage complex projects with accurate and reliable 3D representations.
And what's even better, because of the no-contact nature of the scanner, we can capture the imagery without disruption to workflows or taking unnecessary risks—no need for cranes, lifts, or climbing around equipment to get measurements, and no need for shutdowns. We can do everything from the ground, making the process safer and less obtrusive to your operation.
CPS chose Leica because it's the industry leader in 3D laser scanning, offering the highest quality, survey-grade laser scanners. The benefits go on and on:
Greater Accuracy Means Direct Cost Savings and Greater Productivity
We eliminate costly return visits because engineers and designers can capture everything they need in one visit —that's millions of unique data points all captured in a single onsite visit. The more quickly we can put the picture together, the more quickly you can find the solution that's best for you. Benefits around cost savings are:
Saves the client money by reducing change orders, delays and costs
Lower cost for as-built and topographic surveys
Reduction or elimination of costly return visits to the site
No facility downtime thanks to fast, unobtrusive scene capture
Minimal field fit-up, field fabrication, and field rework thanks to accurate as-builts
Boosted Efficiency for Your Processes and Ours
3D scanning is more precise than traditional data collection methods. By capturing millions of data points in a single walk-through, engineers and designers have the most accurate and real-time, geo-referenced information with the ability to create as-builts without the need for a return site visit.
Accustomed to traditional blueprints and CAD modeling, we believe clients will be amazed at the speed with which we can deliver project visuals. What traditionally would take months to accomplish can be done in weeks or even days—and the end product tells a far more complete story. Benefits around efficiency are:
Shorter project cycle times
Fast mobilization and data collection mean faster results
Point clouds that can be conveniently used and reviewed by others for more efficient management of projects
Higher Level of Quality
More accurate, complete as-builts for retrofit design projects translate to better retrofit designs. This means less construction rework due to interferences and fit-up problems and the ability to factory fabricate instead of field fabricate. Benefits around quality are:
Better quality results from high-definition surveying
Higher level of detail means less ambiguity and a more complete picture
Best-in-class software
Safer Than Traditional Methods
Scanning is a non-contact tool, so surveyors can collect information on a structure in its current condition without disrupting the workforce or taking unnecessary risks. Benefits around safety are:
Safer procedures for data capture
Reduced risk as all scanning done from the ground, eliminating the need for cranes, lefts and climbing around and over equipment
Unobtrusive data capture—we won't get in the way of operations on the manufacturing floor
You Get a More Complete Picture
We've touted the benefits for why 3D scanning is beneficial to a site expansion project, but to better understand "what you get," here are the tangible deliverables of this service (of course, all customized to the client's unique needs and goals):
Point cloud data
3D and 2D CAD drawings
3D BIM models
New construction verification
Installation design
Conceptual design
Volume calculations
High-definition imagery
CPS is excited for all the ways 3D scanning can enhance our service to clients and help them obtain better results. If you would like to learn more about 3D scanning capabilities and how they might fit with your upcoming project, please reach out to our team and we'd be glad to explore the possibilities with you.
Corporate Project Services, a division of Wenger Manufacturing, is a dynamic group of planning specialists backed by Wenger's more than 80 years of process system supply to the industry. Our knowledge base and breadth of experience in extrusion processing and facilities construction is unsurpassed – and our commitment to excellence is recognized around the world.