PROJECT FEASIBILITY, DESIGN AND IMPLEMENTATION
We Know Your extrusion Needs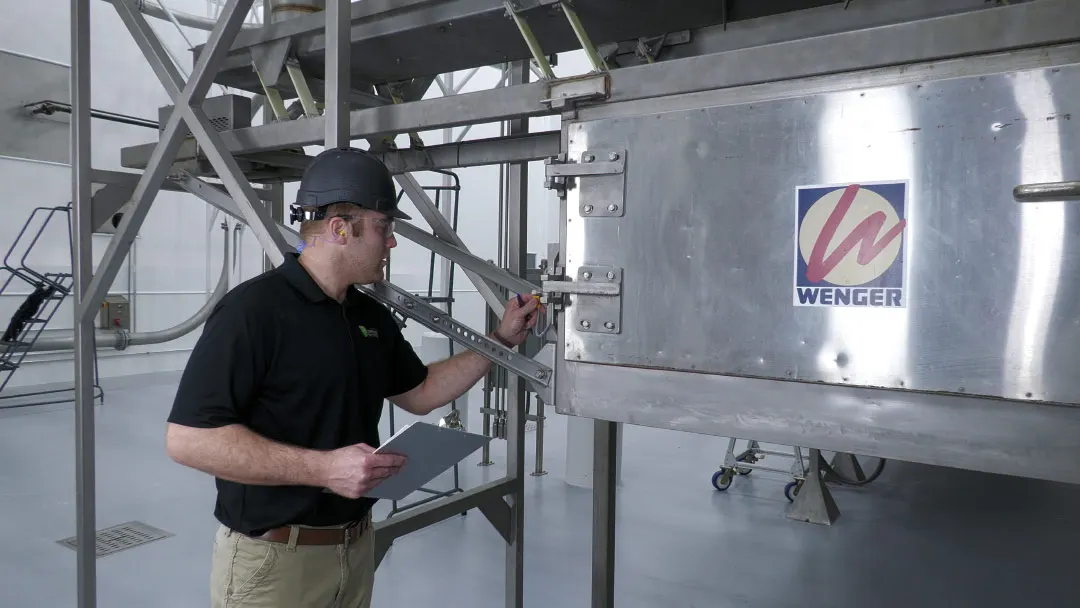 Extrusion systems are the heart of your manufacturing plant—and perhaps the costliest and most complex. You can't leave their planning and care to anyone but the best.
Corporate Project Services (CPS) is a division of Wenger Manufacturing—THE standard and most trusted name in extrusion technology. CPS is specially geared to facilitate extrusion processors' conceptual evaluations, product development, and process design. We use unmatched knowledge, resources and experience to address the entire scope of your extrusion-based project. And, we have long-term alliances with best-in-class vendors to give our clients an edge in sourcing the most respected experts in any discipline.
CPS knows extrusion systems better than anyone in the industry. We understand the intricacies of integrating complex systems, and what systems and steps are vulnerable to safety and efficiency problems. We know what's required to keep the whole plant running without disruption, always keeping quality, safety, environmental soundness and efficiency in the equation.
Get Started
Project Planning Services
Your end goal is safe, consistently high-quality, profitable products. CPS can get you there.
From conceptualization to blueprint to first run to maintenance, CPS is by your side for the entirety of the project. We are passionate about providing exactly what clients need to achieve their unique manufacturing goals, and we have the resources to get it done.
Learn more about our 3D scanning capabilities.
Comprehensive flow diagrams for equipment, liquids, and all other processes
P&ID drawings with instrumentation listing
Leica Survey-Grade 3D Laser Scanning to Deliver Precise Point Cloud Data, 2D and 3D Models – Resulting in More Accurate and Complete Plan Design
Customized Conceptual 3D Layout identifying and illustrating all extrusion factory processing needs
Equipment fit analysis into existing factory
Order of Magnitude Cost Estimates (OMCE) for greenfield sites, brownfield sites, plant upgrades and renovations
Total Cost of Ownership (TCO) Calculators for full plant operations
Utility usage calculations
Equipment sizing and specification
Production cost analysis
Return on investment (ROI) analysis
Customized and Comprehensive
Food Safety Programs
Innovation has enabled the industry to produce food safe from that is contamination and high in quality and nutrition, but these advancements come with highly complex processes, specialized equipment, and sophisticated factory designs. Food manufacturers need a partner with the experience and expertise to guide them in meeting those stringent requirements. CPS is that kind of partner with a structured approach to navigate the high stakes of today's food production environment.
SOP Development
Ensure quality and consistency with step-by-step processes
Equipment Installation
Expert installation with attention to detail
HACCP Plan
Anticipate risks to mitigate future problems
Operational Analysis
Monitor processes for continued optimization
Process Improvement
Scale-up production while maintaining quality and safety
Project Management
Flexible and adaptable without comprising sanitation
Process Design
Structured to keep production line safe and sanitary and avoid costly delays and downtime
Manufacturing Practices
Preventative measures to avoid contamination
Additional Consulting Services
Our team has hundreds of thousands of hours worth of complex extrusion projects under our belts—there aren't many challenges we haven't already encountered and mastered. we can cover areas where your internal team may not have the bandwidth to execute on their own. that includes all of the services above, and also:
Facility visits and equipment audits, food safety solutions, and troubleshooting
Plant airflow studies
Opportunity identification for efficiency improvements
Equipment integration
Food safety software solutions
Operational Equipment Effectiveness (OEE)
Contractor plan review and analysis